LICENSURE:
Would you go to a doctor who did NOT have a medical license?
If you were having problems with your back, would you go to a chiropractor who did not have the proper training or license to practice chiropractic care?
Then if you, or a family member, are struggling with ADHD, anxiety, depression, autistic spectrum issues or other behavioral health issues, why would you go to someone who does not have the clinical background,  training, and a license to practice behavioral health or psychology?
It is important to realize there are people offering neurofeedback in the Phoenix area who do NOT have a clinical license. 
The Arizona Board of Behavioral Health Examiners licenses the professions of Licensed Professional Counselors (LPC), Licensed Marriage and Family Therapists (LMFT), and Licensed Clinical Social Workers (LCSW).  It is very easy to verify if a person holds a AzBBHE license by visiting the board's Verification page.
And do not let a "Ph.D." after a name fool you!     Simply having "PhD" after a person's name does not mean they are a licensed psychologist.  The only way to know for sure is to check the Az Psychologist board licensee directory to see if the person holds a license to be a psychologist.
Therefore, if a person providing neurofeedback (especially for diagnosed mental health disorders) does not hold a license from either the Az Board of Behavioral Health or the Az Board of Psychologist Examiners, or if they do not hold a license from one of the other Az health services board (i.e. doctor, naturopath, homeopath, nurse, etc), then it is highly likely that they are practicing behavioral health without a license (and in Arizona that is also against the law).
And so, ask yourself again, who do you want to turn to for treating your behavioral health issue?
Whether or not you choose ANC for your neurotherapy needs, please make sure that the neurofeedback provider you select has the proper clinical background to be able to adequately address your behavioral health needs.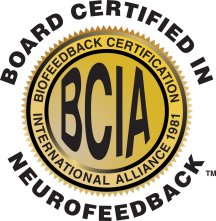 CERTIFICATION:
In addition to licensure, another type of credential that is important is certification.  In the field of Neurofeedback, the primary certifying body is the Biofeedback Certification International Alliance.
According to the Biofeedback Certification International Alliance (BCIA), on their What is Certification page, they state the following regarding certification:
Professional certification is the voluntary process by which a non-governmental entity grants a time-limited recognition to an individual after verifying that predetermined and standardized criteria have been met. Because biofeedback is an unregulated field, certification is crucial for providing standards of care. To be viable as a professional service, standards of competence and clinical practice must be defined and measured. Since 1981, BCIA has taken on this task.

Through the BCIA recertification program, each certificant is held accountable to a code of ethics, obtains specified continuing education, and maintains proper credentialing appropriate for clinical practice.

To become a Board-certified practitioner, one must:

hold an appropriate degree in a BCIA-approved clinical health care field
meet strict didactic education and clinical training requirements
pass a written certification exam
adhere to an ethical code of conduct which states that when working with a medical or psychological disorder, unlicensed providers must work under the supervision of an appropriately-credentialed provider